Casa Noble Anejo 750ml 45.99
Patience is the secret ingredient of this acclaimed Añejo. Aged for a full two years in French White Oak barrels, the complex aromas of dried fruits and spice compliment flavors of toasted oak, butterscotch, vanilla and sweet cooked agave.
Casa Noble Reposado 750ml 37.99
Aromas of vanilla, lemongrass and floral notes are balanced with flavors of sweet cooked agave and toasted oak. Smooth, sensuous and full bodied, this Reposado is aged in French White Oak barrels for the maximum time allowed – 364 days.
Casa Noble Blanco 750ml 31.99
The clean, crisp taste of this Blanco tequila celebrates the fresh flavor of the noble Blue Weber Agave. Enticing aromas set the palate for flavors of honey, buttery-sweet cooked agave and a hint of citrus. Triple distilled for a well-balanced and smoother-than-glass finish, this Blanco is in a class by itself.
Catena Cabernet 14.99
TASTE: This wine shows a dark ruby color with violet tones. On the nose, it offers intense aromas of ripe raspberries and cassis with notes of pepper, clove, and a touch of cedar. On the palate, it is full-bodied and rich and displays layers of black currant and black raspberry with notes of cedar and oregano. This Cabernet Sauvignon is an elegant wine with silky tannins that provide structure and a long and persistent finish. FOOD: Pair this Cabernet with red meats like steak or lamb, demi-glace sauces, or with Steak Frites for a simple bistro-style meal.
Catena Chardonnay 14.99
TASTE: This wine combines the unique expressions of three high altitude vineyard sites. The wine shows an intense greenish color with yellow notes. The extraordinary combination of these vineyards offer honey and tropical fruit flavors while lending notes of citrus, pears, peaches, and white flowers with a strong minerality and a delicate note of vanilla. The mouthfeel is clean, with a fresh, clean acidity. FOOD: This wine would be a fantastic companion a variety of poultry dishes, or to a rich seafood dish like Shrimp and Herb Risotto.
Catena Vista Flores Malbec 14.99
TASTE: The Catena Malbec Appellation Vista Flores shows a dark violet color with black reflections. The nose offers ripe, concentrated dark and red fruit aromas with delicate floral notes of lavender and violet, and mocha. The mouthfeel is rich and full with notes of sweet spice and a touch of leather. The finish presents soft, well-integrated tannins with bright, crisp acidity that gives the wine exceptional length. FOOD: Pair with grilled steaks and would be a wonderful complement hearty meat dishes with lamb and pork.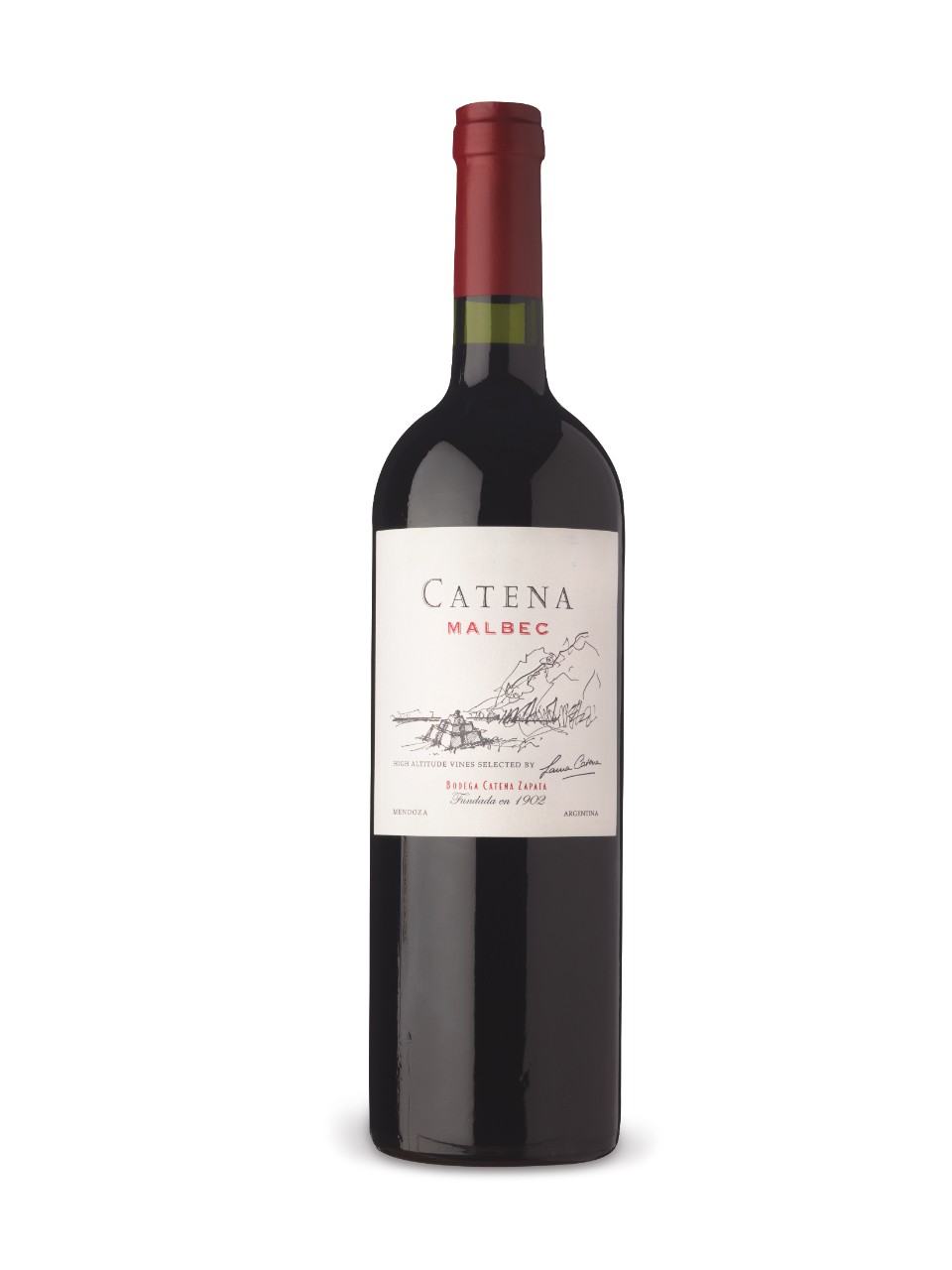 Catena Malbec 15.99
TASTE: The Catena Malbec presents a deep violet color. This microclimate blend of four unique vineyards offers intense aromas, a soft texture, and concentrated flavor. Deep aromas of ripe red and dark fruits are joined by delicate violet and lavender notes, with traces of vanilla and mocha. A rich, concentrated mouthfeel is highlighted by flavors of blueberries and blackberries with a touch of sweet spice, and leather. The wine finishes with bright acidity, well-integrated and silky tannins, and a flinty minerality that lingers on the palate. FOOD: Pair with robust red meat dishes, any agro dolce sauce, or to an earthy dish like Lamb with Dried Plums.
Catena La Consulta Malbec 16.99
TASTE: The Catena Malbec Appellation La Consulta shows a dark violet color with deep purple tones. The nose offers aromas like red fruit and ripe, concentrated dark berries with fresh herbs and floral notes like lavender and violets, some traces of vanilla and tobacco. The mouthfeel is rich, with raspberries and blueberries, spices notes and a touch of mocha. The finish presents soft and well-structured tannins with bright, crisp acidity that gives the wine exceptional length. FOOD: Pairs well with beef tenderloin.